COFFEE COUNTY ONLINE AUCTION
Bidding Opens: TUESDAY, FEBRUARY 21ST @ 6:00am EST
Bidding Closes: THURSDAY, MARCH 9th @ 4:00pm EST
Location: 225 MIMS BAPTIST CHURCH ROAD (ALSO KNOWN AS: 1923 OLD BELL TELEPHONE RD), COFFEE COUNTY, GA
Size: 256.7 ACRES - 1832 SQ. FT. SINGLE FAMILY RESIDENCE
Type: FARMLAND & WOODLANDS

Bedrooms: 3
Bathrooms: 1 1/2
VERY NICE AND WELL MAINTAINED FARMLAND AND HOME. PLENTY OF WILD LIFE GREAT HUNTING! EXCELLENT INVESTMENT OPPORTUNITY! OPEN HOUSE: WEDNESDAY FEB 15TH 1:00PM- 4:00PM & WEDNESDAY MARCH 1ST 1:00PM- 4:00PM
FROM DOUGLAS: TRAVEL NORTH ON US 221, 9.5 MILES, TURN RIGHT ON MARK MOBLEY RD, TRAVEL 5.6 MILES, TURN LEFT ON BELL TELEPHONE RD, TRAVEL 1.9 MILES, PROPERTY ON BOTH SIDES OF ROAD. FROM HAZLEHURST: TRAVEL NORTH ON BELL TELEPHONE RD 14.3 MILES, PROPERTY ON BOTH SIDES OF ROAD.
Click here to Register/Login to Bid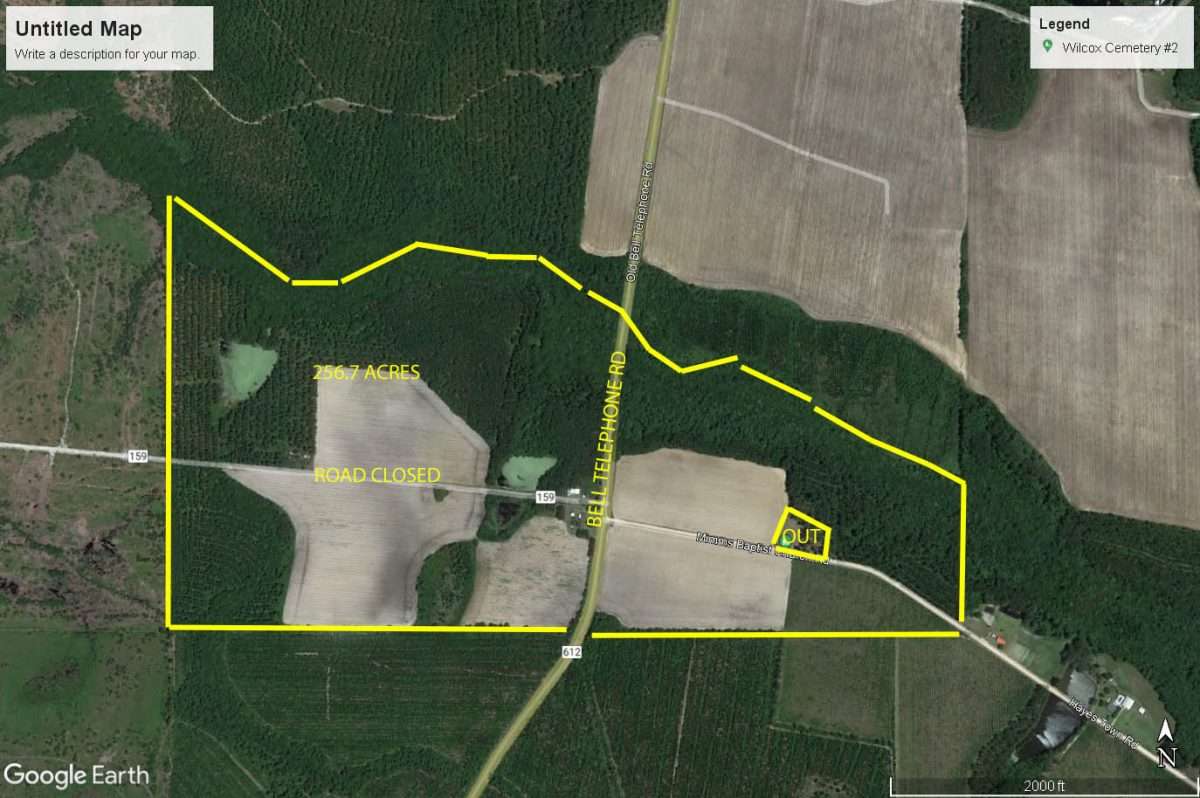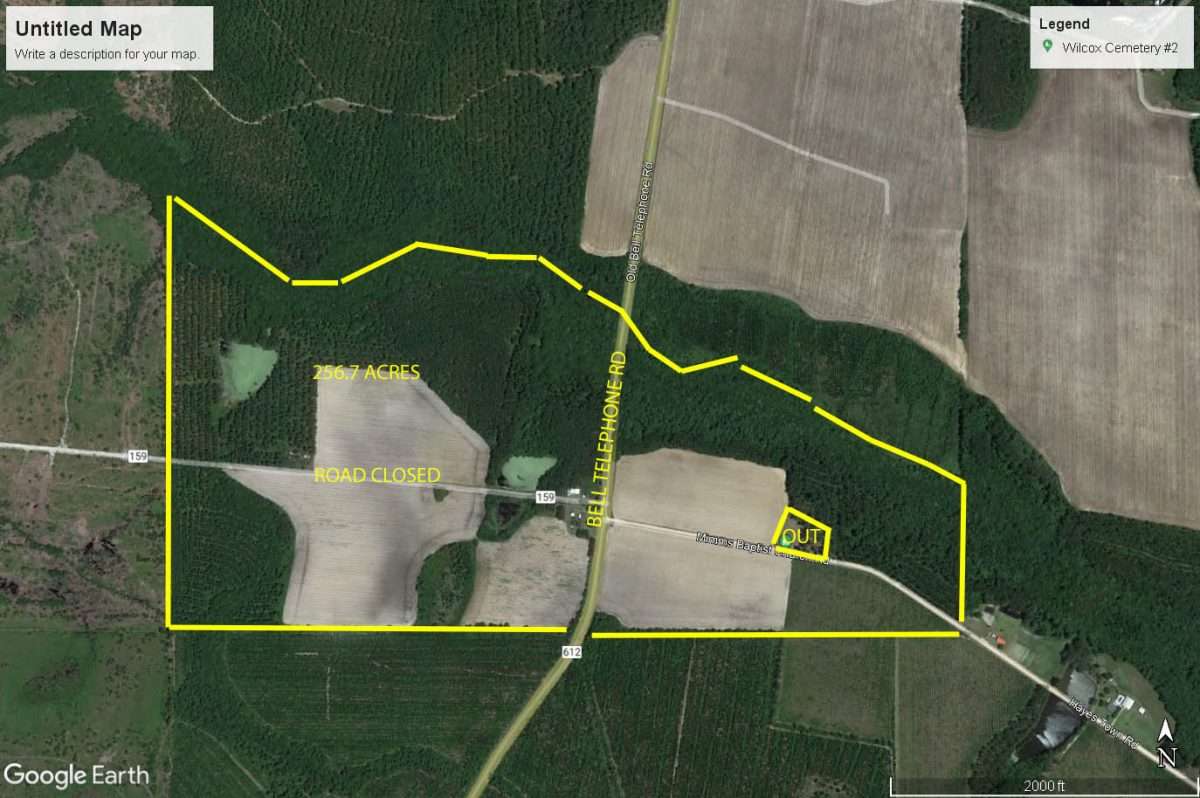 Discover this brick ranch style home, nestled on 256.7 acres of breathtaking land. Built in 1966, this 1832 square foot beauty has a solid foundation that is sure to impress, with custom features such as knotty pine paneling, a masonry fireplace with extended hearth, and updated ceramic tile flooring.
Step inside and be greeted by a warm and inviting living/great room, complete with wall-to-wall carpet, hardwood paneling, and a cozy fireplace. This space is partially open to the kitchen and dining area, creating an effortless flow for entertaining guests. The eat-in kitchen boasts oak cabinets to the ceiling, a breakfast bar for four, and updated ceramic tile flooring.
The guest half bath and a large laundry room are conveniently located off the kitchen. The laundry room is large enough to include a separate refrigerator or freezer. An exposed brick den, also located off the kitchen, provides additional entertaining space.
The three bedrooms in this home are well-appointed, each featuring wall to wall carpeting and ample closet space. Both bathrooms have original ceramic tile counters and sinks, and partial tiled walls.
For those who enjoy their hobbies and projects, this home includes an attached two car garage with cabinetry and counterspace for storage.
Don't miss your chance to own a piece of history and make this house your dream home today!
Disclosure: as detailed in rule 55-10-.03 (3) , of the Georgia Auctioneers Commission: any auction sale is, without requirement of announcement at any time, presumed to be with reserve unless the property is/are, in explicit terms put up at "absolute auction". According to rule 55-10-.01 (4) (b) , J. Durham and Associates, Inc. And our sellers hereby give notice that bids may be made by the seller, or upon the seller's behalf, at any auction with reserve.
NOTICE: FOR CONTRACT PURPOSES, YOUR BID PRICE PLUS THE 10% BUYER'S PREMIUM,  WILL BE CONVERTED TO A PER ACRE PRICE AND THE FINAL CONTRACT PURCHASE PRICE  AMOUNT WILL BE DETERMINED BY THE FINAL SURVEY.
ALL PROPERTIES MUST BE SURVEYED,WITH THE SURVEY TO BE COMPLETED NO LESS THAN TEN (10) DAYS  PRIOR TO CLOSING.  THE COST OF THE SURVEY WILL BE PAID BY THE BUYER, WHICH COST IS SEPARATE FROM AND IN ADDITION TO THE PURCHASE PRICE.  THE NUMBER OF ACRES SURVEYED TIMES THE CONTRACT PRICE PER ACRE WILL DETERMINE THE FINAL OR ACTUAL PURCHASE PRICE TO BE PAID AT CLOSING.
Conditions of the Real Estate Auction
Bidder is required to register before twenty-four (24) hours or more before  bid closing date and time. All information is subject to verification. Registration constitutes complete agreement with the Sites terms and conditions. Auctioneer reserves the right to deny registration at its sole discretion. 
Terms:  The successful purchasers will be required to sign the seller's real estate purchase agreement on sale day and make an earnest money deposit equal to fifteen percent (15%) of the contract price.  Sale will close within thirty (30) days after the date of auction at which time the purchaser will pay the balance of the purchase price.  A 10% buyer's premium will be added to all purchases to arrive at a contract price.
The information contained in this brochure and all related materials are subject to the terms and conditions of the purchase agreement.  The property is being sold on an "as-is, where-is with all faults" basis.  The property will be sold for all cash.  Your complete inspection of the property and pertinent documents prior to bidding is recommended.  Announcements made at the podium at the time of the sale take precedence over all printed materials, except for the fully executed purchase agreement and subsequent conveyance/closing documents.  
Conduct of the auction and increments of bidding are at the direction of the auctioneer.  All properties will be sold subject to the sellers reserving the right or confirmation within ninety-six (96) hours.  Since the sellers are highly motivated to sell on the date of the sale, the announcement of acceptance of final bids could be synonymous with the time and place of the auction.
Survey: All property must be surveyed, with the survey to be completed no less than ten (10) days prior to closing by a licensed Georgia registered surveyor.  The cost of the survey is to be paid by the purchaser, which cost is separate from and in addition to the purchase price. The number of acres surveyed times the contract price per acre shall determine the final or actual purchase price to be paid at closing.  J. Durham and Associates, Inc., will have the final approval of the selected surveyor.
Representation disclosure: J. Durham and Associates, Inc., represents the seller in this transaction, not the purchaser, but does not have authority to make representations on behalf of the seller with respect to any matter.
Property size & dimensions:  All acreages and property line dimensions are subject to change.  They have been calculated for auction purposes only and are approximate and may be general in nature and are being sold subject to final survey.  They are not guaranteed by the seller of J. Durham and Associates, Inc.
Acceptance of condition of property: The property, and the improvements thereon (if any), are being sold "as is-where is." Buyer acknowledges he has had ample opportunity to inspect the property and to have same inspected by his agents, and Buyer accepts the property in its present condition. Auctioneer/Broker and Seller have gathered information contained in promotional materials and online postings from sources deemed reliable but not guaranteed. Buyer acknowledges that he has inspected the property or has had the opportunity to do so and chose not to inspect the property. Buyer is relying solely on his own inspection and judgement. Further, all parties acknowledge and agree that the property is being sold "AS IS" with any and all faults.
After you register and receive your bidder number, if you are not a regular customer or known buyer, which regularity and/or familiarity shall be determined by J. Durham & Associates in its sole discretion, you will be emailed a BIDDER ACTIVATION AGREEMENT which you will be required to fill out. This form must be signed in front of a Witness and Notary and emailed back to [email protected]; you also may be required to make a $2500.00 bid deposit before your bidder number will be activated.  Mail your bid deposit check, attention: Joe Durham, payable to J. Durham & Associates, Inc. To 1216 Dawson Road, Suite 102, Albany, Ga 31707. Or, contact Joe Durham to remit the deposit via credit card or wire transfer. The winning bidder's $2500.00 deposit will be applied to the down payment. All other bidder's deposits will be refunded within ten days after the auction closing date. WE RESERVE THE RIGHT TO WAIVE THE BIDDER DEPOSIT FOR KNOWN BUYERS AND REGULAR CUSTOMERS. BIDDERS MAY BE REQUIRED TO PROVIDE ADDITIONAL FINANCIAL INFORMATION, INCLUDING BUT NOT LIMITED TO A CURRENT BANK LETTER OF GUARANTEE.
Additional Terms and Conditions of this Online Auction are located on the Registration/Login to bid page.
What to expect if you are the winning bidder
Our office will call you shortly after the end of the auction. At that time we will verify the name(s) to be entered on the contract as purchaser and on the deed.
Next, we will email you the completed contract package. The email will include directions for returning the signed documents and sending the earnest money deposit (wire, cashier's check or cash)
All documents and earnest money  must be returned within 24 hours.
Upon receipt of these, our office will forward the contract package to the seller for signature.
After the seller has signed, we will send you a copy of the signed documents for your records. At the same time, copies of the documents and closing information will be forwarded to the closing attorney/title company.
Then the closing attorney/title company will contact you to schedule the closing for the property.
Prior to the closing, the attorney/title company will supply you with a copy of the preliminary hud settlement statement showing the accounting of the transaction and any remaining funds that you will need to bring to closing.
Have questions or need clarification? (229) 436-2733 or Email us at [email protected]
We are here to help!